We assist clients at every level in the jewelry business. We serve in whatever area or capacity that is most useful for the development of the business. From top management to bench jeweler and front-line staff. We can provide knowledge and training to develop and grow your jewelry business. Brick and mortar stores or e-Commerce only sites – we can show you proven techniques and guidance to make it a success.
Our
Business

Purpose

As a consultant advisor to jewelry businesses, it is our aim and duty to: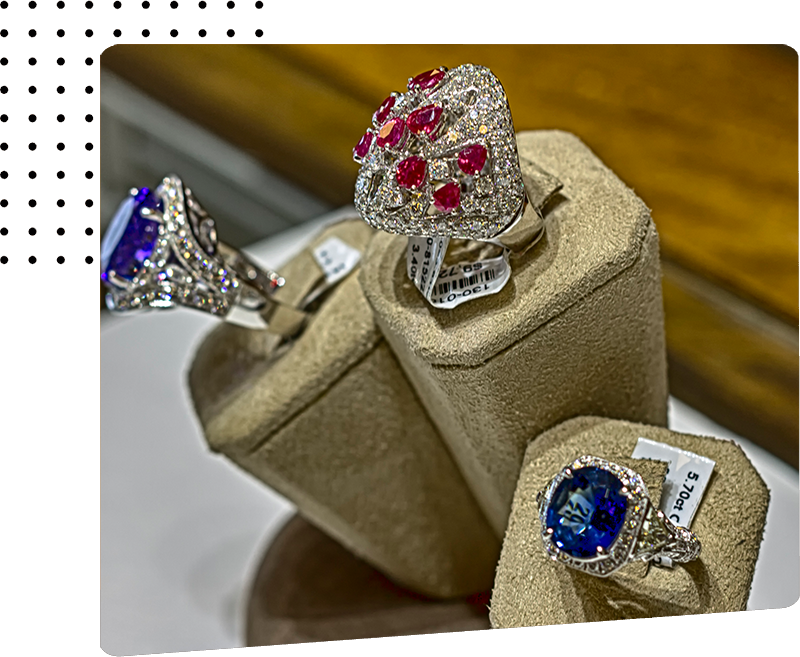 No matter the challenges you face, we deliver practical solutions for lasting results that equip your business to grow. We become your partner in finding the right solutions and work with you in implementing them.
Increase the profitability of you jewelry store.
How We Focus Our
Expertise
Reduce
Unnecessary Business

Costs
How many diamonds have you discarded because of damage from improper diamond setting techniques? Stop flushing money down the drain. Let us teach the people you rely on to deliver quality products with the advanced stone-setting techniques that are guaranteed to reduce waste and save your diamond investments.
Deliver
High-Quality Products

Always
Sourcing quality jewelry can be a difficult task. But it is necessary to find reputable suppliers for products that deliver quality and value. We'll help you build a reputable business and earn the trust of your customers through unmatched quality. We will source high-quality products for your store, help you design and layout your store for maximum impact.
Build a
High Converting

Online Presence
Facebook, Instagram, Pinterest – these and other social media sites are all other company's assets. You can't build your business on other's assets. You build on yours and promote on theirs. We can show you how to establish a compelling online business with a high converting website and effective digital marketing to your benefit.
Improved
Store

Experience
Grow your business with the skills and knowledge for today's jewelry market.